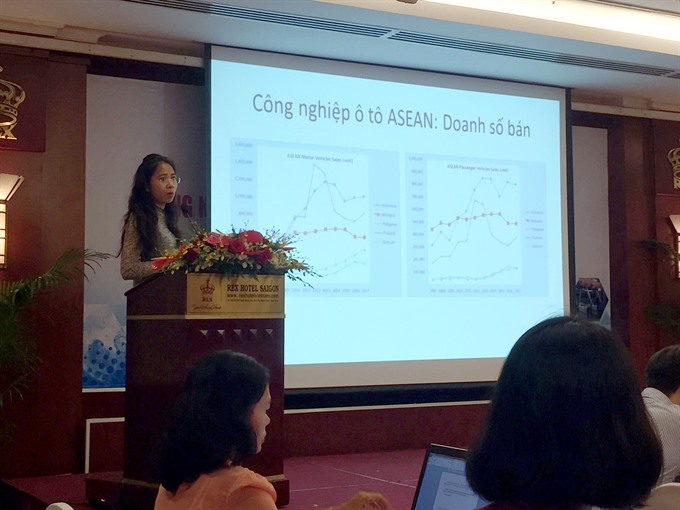 Nguyễn Thị Xuân Thúy from the Institute of Industrial Policies and Strategies speaks at the seminar on Supporting Industry in Industry 4.0 in HCM City on March 13. — VNS Photo
Viet Nam News
HCM CITY — Vietnamese companies operating in the supporting industry need to increase competitiveness to be able to enter global supply chains, experts said at a seminar held in HCM City yesterday.
Nguyễn Thị Xuân Thúy from the Institute of Industrial Policies and Strategies (IIPS), which is under the Ministry of Industry and Trade, cited the example of Việt Nam's status among ASEAN nations that manufacture vehicles.
Compared to Thailand, Malaysia, Indonesia and the Philippines, Việt Nam ranks third in population after Indonesia and the Philippines but its automobile production output ranks fifth among the five countries, she said.
The Vietnamese parts supply industry is still underdeveloped, she added. Domestic manufacturing and assembling enterprises in Việt Nam have to import automobile spare parts from various sources, including Korea, Japan, China, Thailand and Indonesia.
Due to the small scale of Việt Nam's automobile market, the costs for producing auto parts or components are high. Therefore, demand for domestically made parts is relatively low, constraining the development of the local supporting industry.
As a result, automobile assembly firms choose to use imported parts, creating a vicious cycle that remains unsolved, she told the seminar on Supporting Industry in Industry 4.0.
In principle, the number of part suppliers must be much higher than assemblers, but the total of suppliers remains very modest in Việt Nam.
For instance, the country has 20 automobile assembly firms, while Thailand has 16, but the number of Tier-1 and Tier-2 and 3 parts suppliers are 84 and 145 in Việt Nam, compared to 690 and 1,700, respectively, in Thailand, Thúy said.
Because the number and capacity of Vietnamese firms is still modest, entering the ASEAN production chain continues to be difficult.
This year the tariff on complete-built-in (CBU) units on automobiles imported from ASEAN nations was reduced to zero per cent under the ASEAN Free Trade Agreement, causing competition among domestically made products.
The automobile market in Việt Nam has good prospects, she added. The potential of the country's automotive market is assessed based on factors such as the size and structure of the population, per capita income, the number of vehicles per 1,000 people, and infrastructure development.
Việt Nam has over 90 million people and a growing middle class, with per capita income estimated to reach US$3,000 by 2020.
The country's automobile market is expected to soon have an automotive consumption rate (known as motorisation) of 23 vehicles per 1,000 people, Thúy said.
Road traffic systems are expanding with intercity connections through a network of highways, creating more favourable conditions for private cars, she added.
Delegates at the seminar also spoke about the impact of the so-called fourth industrial revolution on the automobile industry.
New technology will help firms increase productivity, but it will also expose challenges for local firms. Because of the weak capacity of the industry, firms might lag behind others, they said.
Nguyễn Dương Hiệu, chairman and general manager of LIDOVIT Trading and Industrial JSC, said the impact of the fourth industrial revolution was still new to many Vietnamese.
"I think local producers firstly need to invest in upgrading their technology, and integrate management systems to better manage their production and approach the market," he said.
He said that management agencies should provide local part suppliers with specific requirements of foreign firms so they can prepare to meet their standards.
Delegates also suggested that the Government set up a website for businesses in the parts industry so they can update their information, which would make it easier for downstream producers, including foreign ones, to find parts suppliers.
The seminar was held by the HCM City Department of Industry and Trade, the Board of Management of Saigon Hi-Tech Park and HCM City Export Processing and Industrial Zones Authority. — VNS
Nguồn: vietnamnews.vn